Remembering Nataraja Ramakrishna
Talk
2.0 hrs
March 21, 2019 7:30 pm Thursday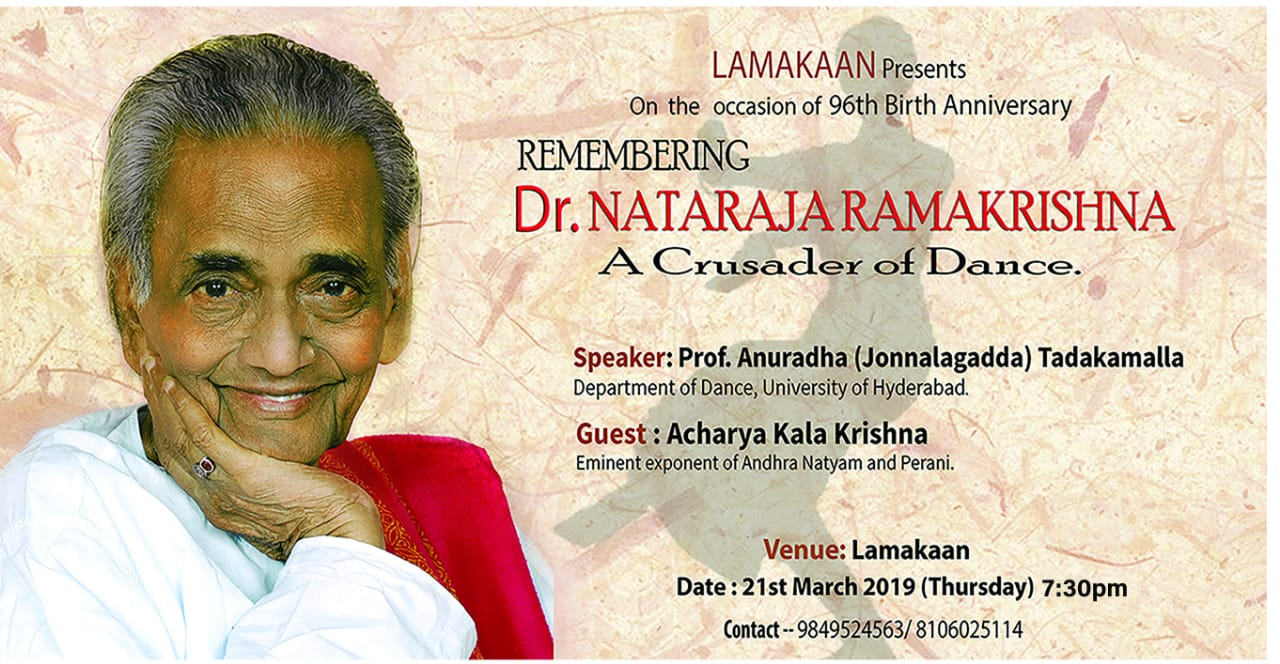 Remembering Nataraja Ramakrishna
Lamakaan invites you all on the occasion of 96th Birth Anniversary of Padmashree Nataraja Ramakrishna who was on 21st March 1923 in Indonesia.
About Nataraja Ramakrishna:
Padmashree Nataraja Ramakrishna (21 March 1923 – 7 June 2011) was a dance guru from Telangana, India. He was the chairman of Andhra Pradesh Sangeeta Nataka Academy. He was also a scholar and musicologist who promoted classical dance in Andhra Pradesh and worldwide. Nataraja Ramakrishna's contributions to dances of South Indian traditions are great. He revived the dance traditions of Devadasis of Andhra Pradesh and named them Andhra Natyam. He decoded the 13th-century sculptures of Ramappa temple with the help of Jayapa Senani's Nrittya Ratnavalli and reconstructed the dance that went extinct for almost eight centuries. A lesser known fact about Nataraja Ramakrishna is that he put up the case of granting Classical status to Kuchipudi which otherwise was listed as a folk dance. He has immensely contributed to Perani dance form and nurtured it to the core.
Speakers: Dr. Anuradha Jonnalagadda, Associate Professor at the Dept of Dance, University of Hyderabad. She is also a Kuchipudi Dance Exponent and direct student of Guruji.
Shree Kala Krishna, a direct disciple of Guruji will also be there.
ALL ARE WELCOME. ENTRY IS FREE & OPEN TO ALL!!!