«Prev
From May 25, '20 to Jun 24, '20
Next»
6002
From Ameer Khusro to Tagore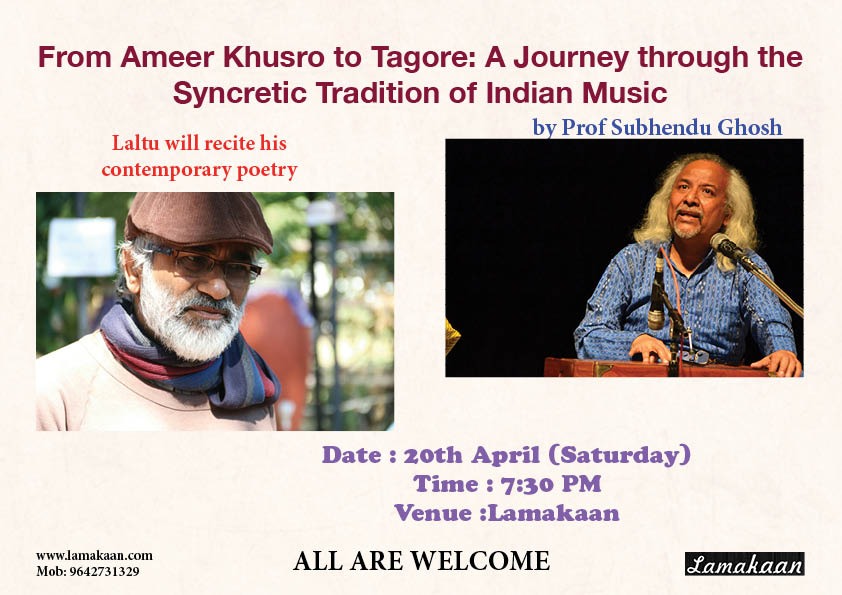 Sat Apr 20, 7:30 PM
Lamakaan
From Ameer Khusro to Tagore: A Journey through the Syncretic Tradition of Indian Music

This is a presentation to remind ourselves as we pass through a difficult period of communal
tensions and violence, about India's history of syncretic culture. The people of India have lived
in peace and harmony over the ages. Despite differences in religions, they have all contributed to
building a very rich and composite culture, and this is beautifully reflected in our literature and
music.
This programme is a musical journey through India's traditions of secular poetry & music, in a
historical order beginning from the 13 the century to the present day. Most of the music is
composed and sung by Dr Subhendu Ghosh and is based on Hindustani ragas or other musical
forms including the traditional folk songs. The narrative includes the following poets – Hazrat
Ameer Khusro, Kabir, Guru Nanak, Mian Taan Sen, Bulle Shah, Lalan Faqir, Nazeer
Akbarabadi, Ram Prasad Bismil, Haribans Ray Bachchan, Faiz Ahmed Faiz and Rabindranath
Tagore.
This is a small effort to highlight the poetic genius of our Indian poets and pay our tribute to
those who dedicated their lives for a Secular India.

The program will have a Poetry recitation by Laltu at the beginning of the event.

ENTRY IS FREE & OPEN TO ALL!!!